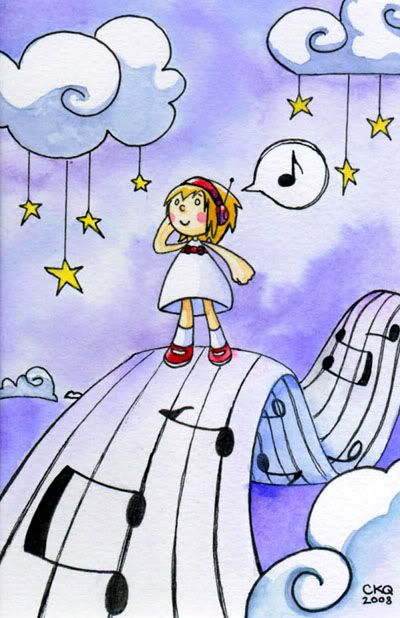 The music's in her head and below her feet.
This is the piece I managed to pull together in roughly 5-6 hours for the silent auction at my old high school this Saturday to fund raise money for my sister so she can go on the California band trip. Since it's a band/dessert type of event I definitely kept in mind the music theme with this piece.
I took pictures as I was working on it and will probably post the progress shots from initial sketch down to the framed finished piece once I edit them down to size later this afternoon (they'll be with this post). As for a starting bid price, I would like to set it around $40-$50. I know it sounds high but the frame I bought was not a cheap $10.00 frame. The original price was about $25-$30 but I got a little discount because it was on sale, but taking into consideration the materials used and my time I'd say the starting price justifies it. I hope someone will bid on it... It could make a good Christmas gift. ;)
Info on event
What: Silent auction, desserts and jazz band (support the band to go to CA)
Where: Mt. Baker High School auditorium
When: Saturday, December 6, 2008
Time: 7:00 p.m. - 10:00 p.m.
From 7:00-8:00 will be a time for desserts/browsing silent auction items and bidding. From 8:00-9:00 the jazz band will play. From 9:00-10:00 more desserts and silent auction stuff
Current Mood:
accomplished
Current Music: Val Emmich "Snowy Day"